The Lepra India Trust (TLIT) derives its inspiration from the Blessed Saint (Mother) Teresa's ideals of compassion, brotherhood, unconditional love and service. We understand that it is impossible to reach out to every person in the world, but as Mother Teresa always said…"do little things, but with great love" and that remains our intent every single day.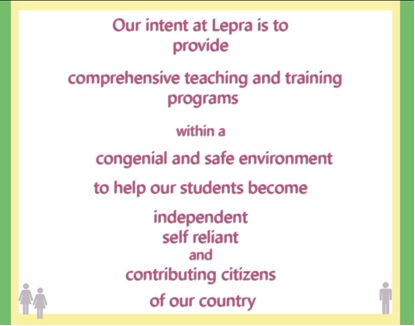 Since its inception in 2006 till December 2019, the Trust has succeeded in rendering a unique type of intervention to bring about a catalytic change in the lives of more than a thousand youth which includes youth from EWS category, healthy children of leprosy patients, and the hearing Impaired children. In 2012, the Trust introduced special education and speech therapy for hearing impaired children (age group of 3-12 yrs) belonging to disadvantaged families.
The Lepra India Trust currently provides 3 major programs:
Medical Intervention with the leprosy affected: Through our Outreach programme, we reach out to the 'burnt out' cases, who once suffered with the disease, but now, although cured of its bacteria, suffer great poverty and discrimination, having to seek out a living by begging.
Skill Development Courses in Computers software, Tally, Beauty and Tailoring for different youth segments: by means of these programme, we have skilled almost 2000 young people with computer skills both software and hardware, beauty courses and sewing classes.
Non-formal education and speech therapy for children with hearing impairment: Non formal education for young hearing impaired children who are unable to adjust in mainstream schooling as these schools do not have special educators or speech therapists.